Integrated Solutions for Positive Energy and Resilient Cities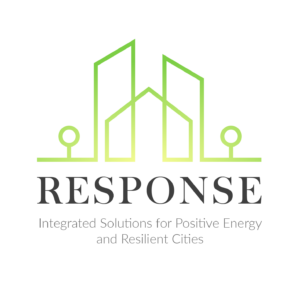 Project Objectives
One of the largest energy consumers responsible for 40% of the energy consumed and 36% of CO2 emissions in the EU8 is the building stock. Up to 75-85% of EU buildings are considered as energy inefficient (≈30 billion m2), however they will continue to be utilized till at least 2050 rendering renovation crucial. RESPONSE aims to turn energy sustainability into a double vision by solving the energy trilemma (security, equity/affordability, environmental sustainability) at building, block and district levels in smart cities. To this aim, RESPONSE builds upon intelligent integrated and interconnected energy systems coupled with demand-oriented city infrastructures, governance models and services that foster energy sustainability.
The deployment of citizen-centric Positive Energy Districts enabling active citizen participation and empowerment will be an important step to generate a global positive impact on energy sustainability and climate change.
EIFER's Contribution
EIFER is responsible for the project management and coordination of a consortium of 53 partners and 13 work packages.
EIFER leads the development of Integrated and Interconnected City Ecosystem Operational Framework (work package 3).
This project has received funding from the European Union's Horizon 2020 research and innovation programme under Grant Agreement nº 957751.