Synthetic e-fuels as key enabler for sector linking
Project Objectives
The core idea of the "SynLink" project is the substitution of molecules (methanol, gasoline, diesel, liquid hydrocarbons) previously obtained from crude oil and natural gas in the chemical and refinery industries by chemically identical molecules obtained from CO2, water and renewable energy.
In the project, the entire value chain from synthesis gas production from H2O, renewable electrical energy and CO2 from the air via chemo-catalytic production of fuels to application tests of these fuels in passenger cars and trucks is being investigated.
The production of synthesis gas using Co-SOEC (co-solid oxide electrolyser cell with 150 KW) is investigated in order to couple renewable electrical energy into the chemical value chain. The synthesis gas is converted via methanol synthesis or Fischer-Tropsch synthesis. The raw product produced is further refined via various refining steps to produce e-fuels.
EIFER's Contribution
EIFER participates in the further development of cells and stacks to increase the performance of co-electrolysis.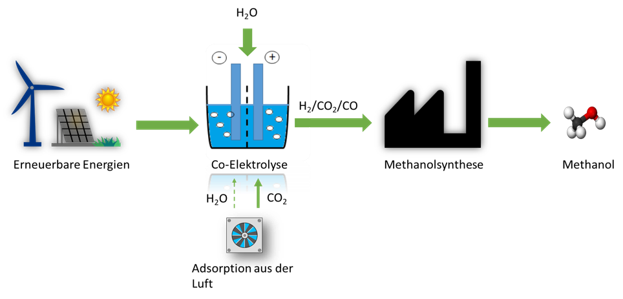 From electrolytic synthesis gas production using H2O, renewable electrical energy and CO2 from air to methanol synthesis.
© Fraunhofer CBP
This project has received funding from the German Federal Ministry of Economic Affairs and Energy (BMWi), funding reference 03EIV031H.